Drive-Up Covid Vaccination and Testing in Atlanta: Viral Solutions
No Appointment Needed. No Wait. No Out-Of-Pocket Cost. All Insurance Accepted.
Patients are Evaluated in Real Time by On-Site Viral Solutions Physicians and Physician Assistants.
We are the Largest and Most Efficient Covid Testing Provider in Georgia.
Covid Test Results Typically Arrive in Two Days.
Pfizer COVID Vaccinations (First or Second Dose) Now Available at Decatur: Register Now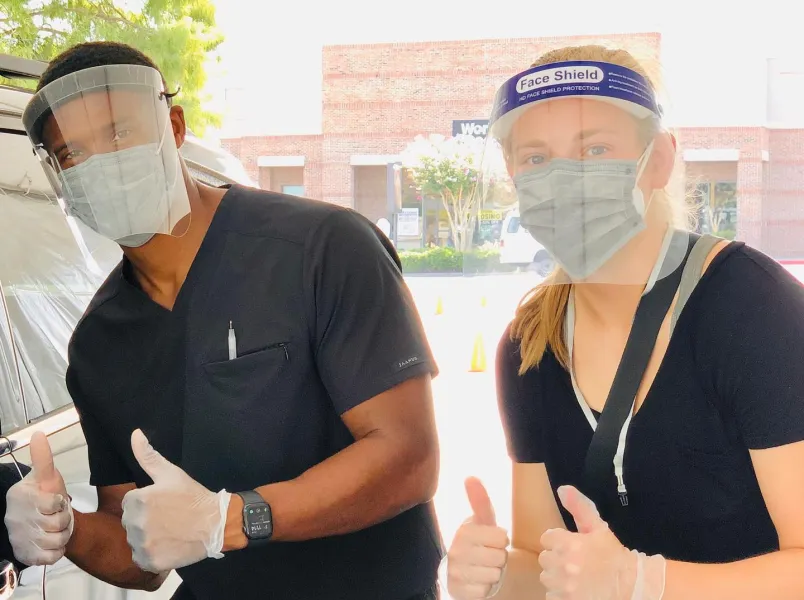 Viral Solutions Drive-Up Covid Testing is Best in Class
Viral Solutions was founded by an Atlanta-based Emergency Physician and Physician Assistant to help find a way to resolve the current COVID-19 testing crisis in Georgia.
We perform COVID-19 PCR testing, because it is the gold standard test. Our patients are evaluated in real time by a local team of Viral Solutions Physicians and Physician Assistants.
We have some of the fastest turnaround times in Atlanta, with reliable results typically arriving in two days.
Viral Solutions believes every person should have immediate access to the best COVID-19 testing available. No patient should wait to get a COVID-19 test. All patients—including the uninsured—should have easy access to COVID-19 testing, and that's what Viral Solutions provides.
See FAQ for more details.
Register in Minutes and Save Time When You're Here.
Viral Solutions Partners with Atlanta Public Schools to Perform Rapid COVID-19 Antigen Testing and Surveillance



As part of Atlanta Public School's Return + Learn initiative, Viral Solutions has been chosen to spearhead the effort to perform rapid COVID-19 antigen testing and surveillance across the entire 55,000-student school system. This program begins roll out Friday, January 29.
The partnership is intended to limit the effects of the COVID-19 pandemic on the APS population during efforts to reopen schools for face-to-face learning.
Teachers and support staff will also have the opportunity to be tested weekly in efforts to help limit the effects of the COVID-19 pandemic on the Atlanta Public Schools (APS) population.
"We are proud to partner with Atlanta Public Schools to bring rapid, reliable COVID-19 testing and surveillance to the community," says Viral Solutions co-founder and CEO, Ben Lefkove, MD. "We are prepared to help APS get through this pandemic, and help the families involved in the school system stay safe and thrive."
Atlanta Public Schools is run by the Atlanta Board of Education and led by superintendent Dr. Lisa Herring. The system has an active enrollment of 55,000 students, attending a total of 103 school sites: 50 elementary schools,15 middle schools, 21 high schools, four single-gender academies and 13 charter schools.
"As the largest provider of COVID-19 testing in Georgia, we are eager to bring our testing and surveillance model to a community that is near and dear to us," says Viral Solutions co-founder and President, Ron Sanders, PA-C. "We are delivering first-class testing to the heart of the Atlanta community. It's initiatives like this that drive us to do more and get better each day."
Listen to a WSB radio interview with Dr. Benjamin Lefkove and Ron Sanders, PA-C, founders Viral Solutions

After seeing the need for additional COVID-19 testing in the Atlanta area, this duo founded Viral Solutions in an effort to offer the best diagnostic testing possible in a timely manner for all, including the uninsured.

Dr. Lefkove and Sanders, PA-C, return to the show five months after their last visit to chat about how their business has since exploded. Their drive-up testing locations have become the largest single ambulatory sites in the state. They discuss their trials and tribulations on the pandemic front, adding vaccine administration into the mix, and more.
Q
What type of testing does Viral Solutions perform?
A
Viral Solutions performs molecular-based RT-PCR (polymerase chain reaction) testing on nasopharyngeal samples. A small swab will be inserted into the back of your nose for a few seconds to obtain an appropriate sample. We chose to use RT-PCR because it caries the highest sensitivity for detection of COVID19. Our tests are approved for the detection of SARS-CoV-2 (COVID19) under an Emergency Use Authorization from the FDA.
Q
What is the difference between rapid testing and PCR?
A
There are many different testing platforms available for detection of COVID19. "Rapid tests" typically test for the proteins on the surface of the virus. This test does not carry the same high-level of sensitivity as the RT-PCR tests that we are performing. It is VERY important that your test detect virus if present, as false negatives can result in you inadvertently exposing your friends and loved ones to COVID19.

A
All of our services have NO out-of-pocket cost to you. We will bill your insurance for the cost of the test. We do not "balance bill" patients, nor do we collect co-pays, deductibles, or co-insurance. Your insurance should not be charging you any out-of-pocket expense for this service, per federal law.
Q
What if I am uninsured?
A
We welcome ALL patients, who believe they may have COVID19, to come and get tested. We do not charge uninsured patients for the cost of evaluation or testing. You will be asked to certify that you are uninsured at the time of evaluation.
Q
How long will it take to get my test results?
A
Typically, results return in two days. One of our foundational principles is expedient turn-around of results, as it is vital that you have your answer as soon as possible. Your test results will flow directly into your patient portal, where you can view and print (if needed).
Q
How do I create my account on the patient portal and receive my results?
Q
What do I do if my insurance company denies payment for care I received at Viral Solutions? Will I be billed for this?
A
No, you will not be directly billed. We stand by our policy of no out-of-pocket cost for our patients. COVID19 diagnostics (the "lab fee") and associated Professional Service Fees (Provider evaluation, determination of medical necessity, and test ordering) were addressed by the Federal government with the insurance reforms enacted in the CARES Act and associated HHS regulations.

These reforms specifically state that there will be no patient cost-sharing (copays, deductibles, co-insurance, balance billing, etc) for COVID19 Diagnostics. Please see here, here, and here for additional supporting documentation related to the CARES Act, COVID19 Diagnostics, and HHS Regulations surrounding COVID19 testing.

If your insurance denies payment, we will work directly with your insurer to inform and educate them on the fact that your service is covered within the confines of the law and current regulations. Please email us at help@viralsolutionsga.com if you receive a denial of coverage notice from your insurance company.
Q
Do you offer Covid vaccinations?
A
Yes! We offer the Moderna vaccine at our Decatur location when we have the supply.
And Yes, Viral Solutions Tests Kids!
If your child is in need of a COVID-19 PCR test, Viral Solutions has you covered. We've performed thousands of COVID tests on kids, so we have the experience to help your child get accurate, fast COVID-19 test results, with a minimum of fuss. We test children six months of age and older.
Register Now for the Fastest Experience.